The GC3 Device has an Lithium Ion Battery installed within the product.
The battery will hold a charge for 5 to 7 hours when maintained correctly.
The estimate time to fully charge the battery would be from 3-4 hours, which can be while powered off or while in use.
Should you have issues with the device holding a charge please see the items below:
Battery Maintenance:
Most electronics which utilize a battery for power will require some level of maintenance to maximize battery lifespan. The following will help to have your GC3 Battery holding its maximum charge for the longest possible lifespan of the battery:
Once a month use the device while unplugged from the power supply, fully reliant on the battery power.

Charge the battery fully before consuming the battery charge to 100%.
Then consume the entire battery charge until at 0% charge.
Then Charge the battery back to 100% charge.

Note: All battery are consumable items and have a lifespan before replacement is required. This lifespan is based upon use and maintenance.
Identifying Battery Charge:
The GC3 Device will display the current charge of the battery. This can be monitored from two locations:
1. The QUICK LAUNCH MENU: Simply touch the LCD touch screen to bring up the Quick Launch Menu. This screen will display the status of the battery: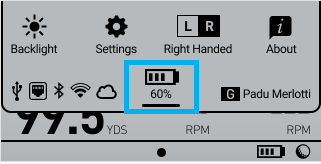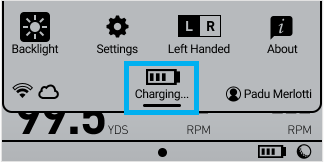 2. The SETTING MENU > BATTERY SCREEN: Select the Quick Launch Menu by touching the LCD Touch Screen, select the Setting Icon, then the Battery Icon to open the Battery Screen. The BATTERY SCREEN will offer you the option to review all current battery readings: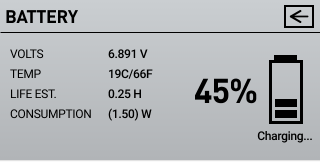 Volts: Will display the current voltage of the battery.

6.5 & Below = Low Charge
7.4 = Nominal Use
8.4 = Plugged Into Power

Temp: Temp should average 10 degrees hotter than the temp in your environment when plugged in. If temperate exceeds 20 degrees more than the environment this will impact charge time and battery life. Exceeding 20 degree above the environment temperature for an extended period of time may impact use of the device or cause lasting damage to the battery.
Life Estimation: This indicates how much estimated life you have left on the charge of the battery before it will need to be plugged back into the power supply to remain in use.
Consumption: Consumption indicates the average amount of power consumed during use. If you feel your battery is not holding a charge like it used to please check this setting to confirm more complex tasks are not the cause, as they consume more power more quickly than simpler tasks.
Charge (%): The charge on the device will be represented as a percentage of 0-100%
Charging: If the device is charging this is be noted below the battery. If it is not charging then this notice will not be presented.